---
---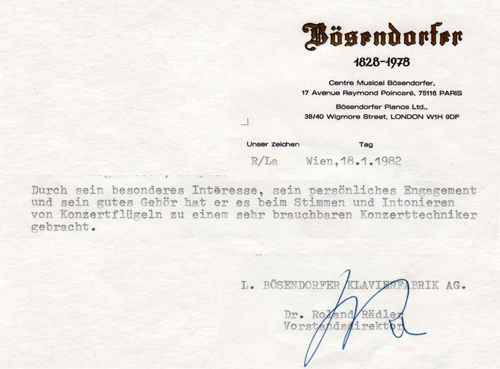 "Due to his special interest, his personal engagment und his good earing,
Sandoval became a very usefull Concert Technician, specialized in Tuning
and voicing"
Dr. Raedler, Bösendorfer Klavierfabrik, Director
---
Admiralpalast

Achtung-Musik GmbH

Ackerstadt Palace

Akademie der Künste

Alice-Salomon Schule

Amazon Rising

Berenstein - Klavierschule Boerne45 (Tonstudio)

Bebop Tanzschule

Chez Cherie (Tonstudio)

DasDUR (Tonstudio)

Ensemble Mosaik

Ensemble United Berlin

Goethe Institut

G. Ricordi & Co.

Havasi entertainment Ltd.

Haus der Berliner Festpiele

Hochschule- Schausplielkunst-

"Ernst Busch"

Hugo Ball Restaurant

INM e.V. Berlin

iTunes Festival

Kulturbrauerei - Kessel Haus

Largoland (Tonstudio)

MaerzMusik Festival

Max-Schmelling-Halle

Moccu GmbH

Muh-Berlin

NK

Berlin Nou Tango

Pacelliklinik (Musik-therapie)

Popschutz (Tonstudio)

Proton (Tonstudio)

Radialsystem

Sector 3 Media GmbH

Serbisch-Ortodoxe- Kirchengemeinde

Sidoni-Scharfe Stiftung

Sophiensaele

Sowieso Bar

Turnhalle Holteistrasse

Tango Loft

TEWAC

Universität der künste

VivaldiSaal

Z-Bar

... and Hundreds of Private clients
---
C. Sandoval
I completed my first private tuning studies in New York with Carlos Grajales and Patrick Votta. From 1980 to 1982 I studied piano construction, tuning and voicing at the Wiener Boesendorfer Klavierfabrik. Immediately afterwards I worked in Los Angeles, California, and then in Mexico City, where I taught piano tuning and repair. I moved to Germany in 2003 and have been working as a piano tuner and builder in Berlin since 2004.

I am an open-minded technician, developing also special projects together with sound artists,
production teams, festivals and composers.
---
Some examples of special projects
Spectral organ Console, built for G. Hennebohl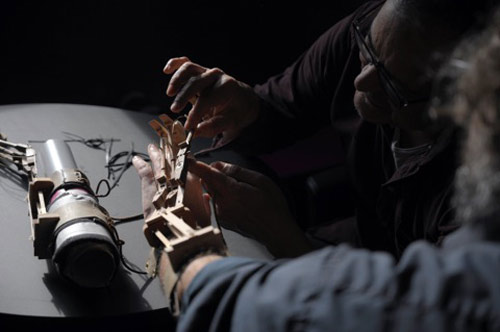 "Senza Clavis", a project for Irene G. Quero und P. Antoniaidis
8x Special tunings and preparations for Radulescu's
"Clepsydra", Haus der Berliner Festspiele
---
C. Sandoval 0177 599 46 24 — berliner.klavier@gmail.com
---



---
BERLINER KLAVIER
Inhalber: Carlos Sandvoval - Falckensteinstr 8, 10997 Berlin - 01775994624
BDK Mitlglied - HWK Mitglied
St. Nr. 14 504 - 63514 - Identifikations Nr. 56 893 220 178
IBAN: DE53 1005 0000 0640 2979 43 - BIC-SWIFT: BELADEBEXXX